Submit an Event
Criteria
Submissions to the Appalachian events calendar must meet specific criteria:
Be open to the public
Be sponsored by the university or by a unit in the university
Include complete information as specified in "Create your event" below.
Review and Approval
The event will be reviewed to make sure the information provided is complete and accurate before being accepted.
Your event will then appear on the Appalachian events calendar website.
If you have asked for your event to be included in an event category (e.g., Lectures and Seminars), the event will appear on both the main calendar and the category calendar after approval.
Steps
To submit an event to the University Calendar, you will need access to the Google event calendar for your department or unit. Most departments or units have an event calendar on their department's generic account. (A generic account is one shared by the department/unit, like rcoe@appstate.edu, not one that belongs to an individual, like smithj@appstate.edu.)
Log out of your personal Google account.
Go to calendar.google.com and log in as your department's generic account.
If your department has a Google events calendar but you're not sure who to contact to get access, ask the Communications Liaison for your department or unit.
If your department doesn't have a Google events calendar, request one by placing a support request and choosing the "Generic Google Account Request" option. A calendar is automatically created along with every generic Google account, so you can use this calendar for events. Be sure to set the calendar to public in Google settings.
The following information is recommended for each event entry, and required for inclusion on the main Appalachian events calendar.
Title
Date and time
Location - address, building, room number, etc.
Description must include:

1-2 sentence event description
Contact information (name, email, phone) for event point person

Basic HTML tags work in event entries and can help the user quickly link to information they need (see screenshot for examples).

Link to website or page that contains more detailed information
Whether the event requires an invitation, registration, or tickets
File attachments, such as PDF programs, are optional. If you choose to attach a file to your event, the file will be automatically added to Google Drive and you must adjust the sharing settings on Google Drive to make the file public.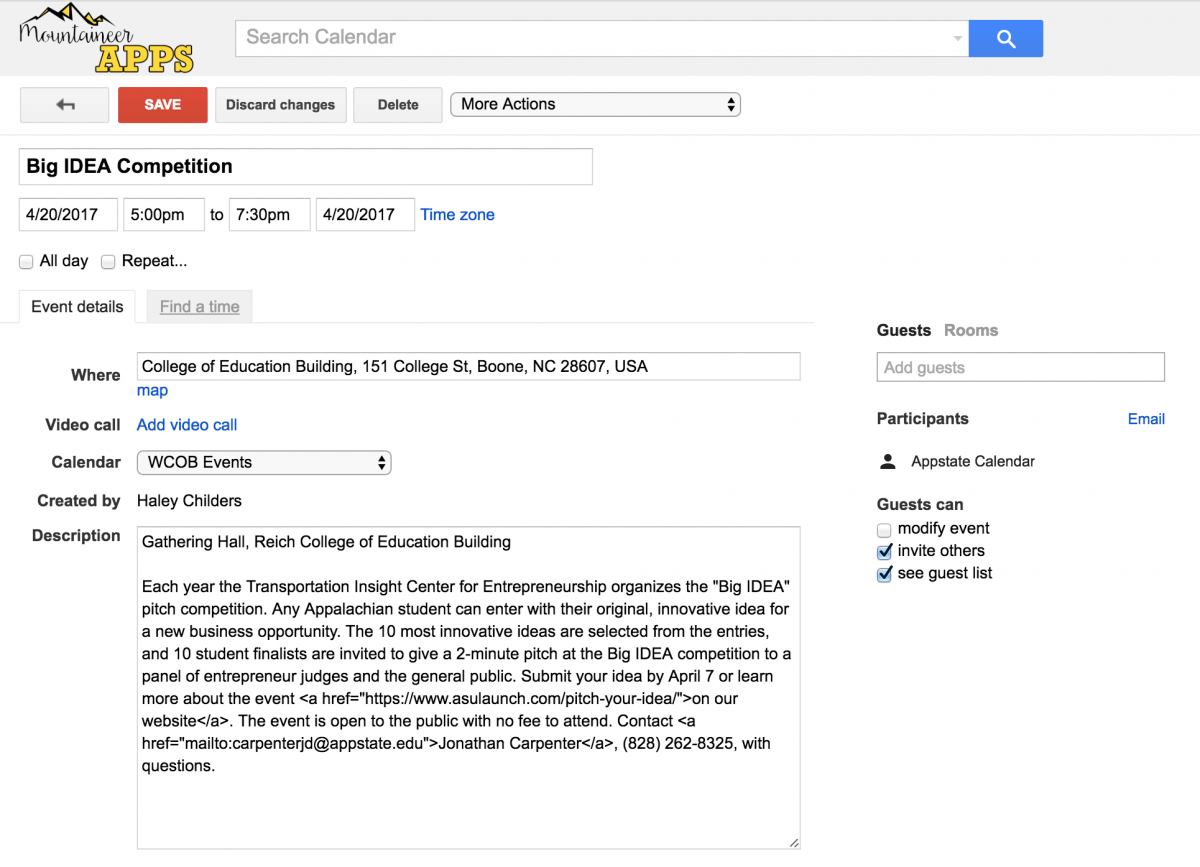 On the Google Calendar event editing screen, add "calendar@appstate.edu" as a guest to your event entry via Google calendar as shown below.
Be sure to check the boxes for "Guests can 'invite others' and 'see guest list'" in the event invitation.
You must click "send" on the pop-up window "Send invitations? Would you like to send invitations to guests?"